Place orders through the Beer Ordering portal. If you do not see Travelin' Light as an ordering option please reach out to your Left Hand Sales Rep or Regional Manager.
New POS Now Available!
Log-in to the Ordering Portal to place orders.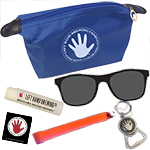 Summer Survival Kit!
Order in multiples of 1; kit includes, chapstick, waterproof bag, sunglasses, key chain bottle opener, matches & glowstick.

---
---
TRAVELIN' LIGHT BRAND ASSETS AVAILABLE ON BRANDFOLDER!
Log-in to Brandfolder and search "Travelin' Light" for access to downloadable files.
Don't remember your Brandfolder password? Request a new password here. Need access to Brandfolder for the first time? Email BrittF@lefthandbrewing.com for access.